August Harvest Calendar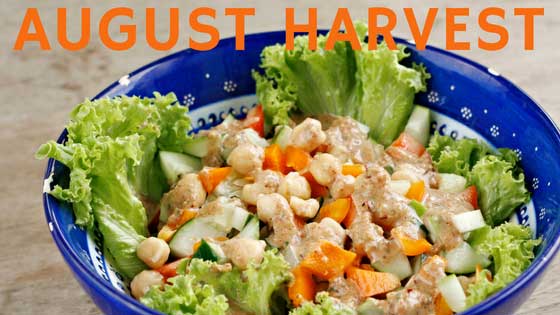 How is it August already?? This is a time of year when there's so much bounty coming out of the earth that we just have to open up and take in all the fresh produce we can…
Whether you grow your own, visit your local farmer's market, get a CSA delivered to your door, or just browse the grocery store for the best-looking goodies, this month I created a calendar for you that's all about appreciating the summer flavors.
If you want to get on the healthy vegan train this summer, here's a full month of delicious and nourishing vegan meals for you to try – one each day!
If you feel inspired, try inviting a friend or loved one to join us for the month. It's always more fun to do things together.


Here's how it works: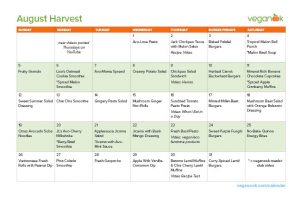 Click on the calendar to download, print, or save this calendar to your phone/tablet.
There's a YouTube playlist below, where I'll show you how to make each recipe. The videos will be added to the list as we move through the month.
You can check off each day as you go while you follow along with the playlist.
For members of the meals+ club, there's a meal plan on the programs page that you can add to your planner. This will include all the recipes in a PDF bundle, weekly grocery lists, and you can view the videos for each day on the recipe pages. You can pull in other healthy meals from the recipe database to complete your day, and see the nutrition info and get a full grocery list.
There are a few recipes on the calendar for members (the ones with an *), but you'll see some close alternatives on those days for those who aren't members yet. (If you want to register, you can learn more here: veganook meals+ club)


Click on the calendar to download, print, or save.
veganook meals+ club click here.