Is meal planning is the hardest part of eating plant based for you?
Need some guidance to make your meal plans more balanced or structured?
Or have you just gotten bored with your usual meals, and want some new and creative recipes to try?

Let's take the hassle out of "what am I going to eat?" and "what groceries do I need?"
What this meal plan program includes:
 Step-by-Step Plan
Full daily meal plan program with recipes for every meal, plus snack ideas, so you know exactly what to eat through each week.
 Done-For-You Grocery List
All the foods you'll need for the full week, so all you have to do is head to the store.
 Prep Guide
You'll get a guide of what you can prep in advance, so you can be on top of the game through the week.
What sets this apart from other meal plans:
This plan is fully vegan, so it's free of all meat, poultry, fish, dairy, eggs and honey. It's plant-based, with a focus on wholesome foods and minimal added oils and sugar.
This is not just a bunch of recipes thrown together like the cheap and free plans you can find elsewhere. This is a nutritionally balanced plan put together by a nutritionist, with a focus on making it easy to make healthy meals and eliminating wasted food in your fridge or cupboard. You'll get a full nutritional breakdown of every food, meal, smoothie and snack for the week.
All you have to do is follow step by step this foolproof program to make quick, healthy, delicious and balanced vegan meals, that are easy and actually taste good.
Think of this as your ticket to creating a life full of energy and vitality. All you have to do is follow what I've laid out–and enjoy the benefits.
Maybe you want to: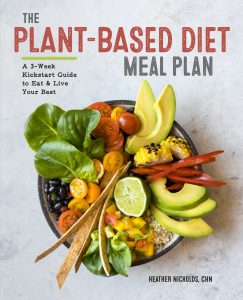 Boost energy from a nourishing and cleansing meal plan
Nourish yourself (and your family) with healthy whole foods
Lose weight with nutrient-dense and perfectly-portioned meals (or gain weight if that's your goal)
Have fun making meals without having to do detailed planning
Eat delicious meals that you actually want more of
Make weeknight-friendly easy-prep meals to recharge yourself
Order The Plant-Based Meal Plan:
Get your meal plan as a cookbook, in full-color print! Includes a 3-week meal plan, with grocery lists and prep guides, plus over 100 recipes to swap in so you can keep this going beyond 3 weeks!
Pre-Order the Book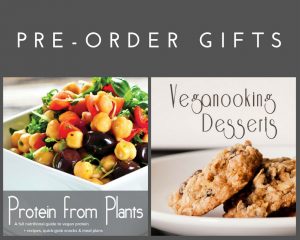 Bonus Gifts:
To say a big huge THANK YOU for pre-ordering, you'll get a digital copy of my full-length ebook Protein from Plants and a digital copy of my Veganooking Desserts ebook.
Just come back after you buy  to register, and I'll email those out to you.
Who Should Get The Plan
Vegans and vegetarians who want to make sure they're getting balanced nutrition
Meat eaters who want to try plant-based meals or plan for a vegan or vegetarian spouse, friend or loved one
Health-oriented people who want to make nutrient-dense meals with whole foods
Busy people who don't have time to plan out all their meals for the week, or follow elaborate recipes every night
People who want to learn how to make healthy meals for themselves, rather than eating out or eating junk food all the time
People who have lost touch with the portion sizes they need to nourish themselves without getting excessive calories
I'll show you how simple it is to get all the nutrients you need – even protein and iron – by eating a variety of healthy, whole plant foods!
Even the USDA knows it's possible: "Vegetarian diets can meet all the recommendations for nutrients."
Pre-Order the Book