As we move into May, we feel spring starting to bloom, and maybe we're starting to emerge from winter cocoons. I don't know about you, but I find myself spending way more time at home, under a blanket, in winter. And now that the sun's coming out, and staying out later, there's more time to spend outside and with friends.
If you want to get on the healthy vegan train this spring, or just get an extra spring in your step, here's a full month of delicious and nourishing vegan meals for you to try – one each day!
It's all about getting a boost: to your energy, to your mood, to your immune system, to your IMPACT – on the planet, animals and your own health.
You can download, print, or save this May calendar to your phone/tablet.
If you feel inspired, try inviting a friend or loved one to join us for the month. It's always more fun to do things together.
Here's how it works:
There's a YouTube playlist on my channel (right here) where I'll show you how to make each recipe. If you save the calendar, you can check off each day as you go while you follow along with the playlist. The videos will be added to the list as we move through the month.
For members of the meals+ club, there's a meal plan on the programs page that you can add to your planner. This will include all the recipes in a PDF bundle, weekly grocery lists, and you can view the videos for each day on the recipe pages. You can pull in other healthy meals from the recipe database to complete your day, and see the nutrition info and get a full grocery list.
The week of May 20th-26th will be cleanse week, for an added boost. There are recipes on the calendar for members, but you'll see some close alternatives on those days for those who aren't members yet. (If you want to register, you can learn more here: veganook meals+ club)
veganook meals+ club click here.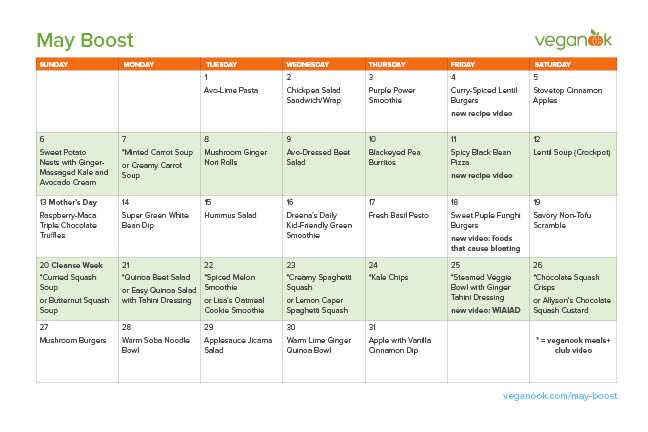 Click on the calendar to download, save, or print it out.