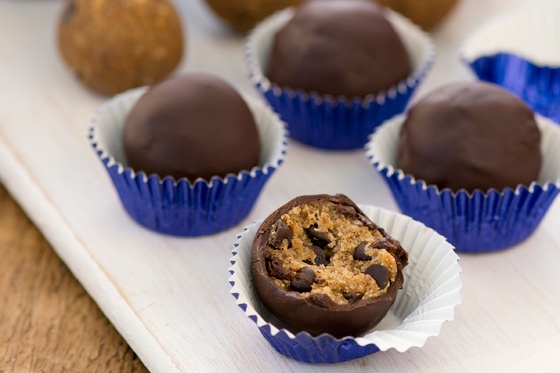 Who knew you could make raw vegan cookie dough truffles, with tons of protein? And that they'd be totally appropriate for people struggling to beat candida – which typically means nothing sweet of any kind?
Ricki Heller did… This recipe is from her book, Living Candida-Free
Not sure what candida is? Not sure how you know if you have it? I'm thrilled to share a live q&a with Ricki Heller, who is the go-to gal for info and recipes to help beat candida as a vegan.
Watch the q&a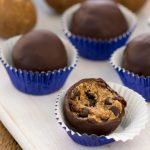 Raw Chocolate Chip Cookie Dough Truffles
From Living Candida-Free by Ricki Heller. Reprinted with permission from Da Capo Lifelong, © 2015 Truffle Ingredients
Ingredients
1

cup

240 ml well-cooked and drained chickpeas or white beans

2

tablespoons

30 ml coconut sugar (see note)

3

tablespoons

45 ml smooth natural seed or nut butter (I use almond butter)

1

tablespoon

15 ml coconut oil

1

teaspoon

5 ml ground cinnamon

2

teaspoons

10 ml pure vanilla extract, or 2 teaspoons (10 ml) vanilla powder

1/8

teaspoon

0.5 ml pure stevia powder, or 1/4 teaspoon (1 ml) vanilla or chocolate-flavored pure liquid stevia, or to taste

3

tablespoons

45 ml coconut flour

2  1/2

tablespoons

37.5 ml unflavored or vanilla raw protein powder (pea or rice)

Pinch

of fine sea salt

3

tablespoons

45 ml plain or vanilla unsweetened almond milk or other allowed nondairy milk or more, as needed

1/3

cup

80 ml homemade carob or chocolate chips (page 205) or cacao nibs
Chocolate Coating Ingredients (optional; makes enough for about 15 truffles)
1/4

cup

30 g raw cacao powder

3

tablespoons

45 ml coconut oil

1/8 to 1/4

teaspoon

0.5 to 1 ml pure stevia powder, or 1/4 to 1/2 teaspoon (1 to 2.5 ml) pure liquid stevia

1/2

teaspoon

2.5 ml vanilla powder, or 1 teaspoon (5 ml) pure vanilla extract
Instructions
Make the truffles: In the bowl of a food processor, process the chickpeas, coconut sugar, seed butter, coconut oil, cinnamon, vanilla, and stevia until very smooth. Add the coconut flour, protein powder, salt, and milk and process until the mixture comes together in a very soft dough. Stir in the chips by hand; don't process again.

For truffles, scoop about 1 tablespoon (15 ml) of the dough at a time and place on a cookie sheet. Freeze until just firm, then roll into balls. For uncoated truffles, store in a covered container in the refrigerator for up to 4 days, or freeze. If coating in chocolate, return the truffles to the freezer while you prepare the chocolate coating.

Make the coating: Place a medium-size metal or heatproof glass bowl over a small pot containing about 1 inch (2.5 cm) of simmering water (be sure that the bowl is big enough to cover the pot, and that it isn't actually touching the water). Place the coating ingredients in the bowl and stir frequently until everything is melted and smooth. Remove the bowl from the pot and turn off the heat.

To coat the truffles: Place a ball on a fork and dip into the chocolate, allowing any excess chocolate to drip back into the bowl. Tap the fork against the top of the bowl so that excess chocolate drips through the tines and back into the bowl. Slide the ball off the fork and back onto the cookie sheet, and repeat to coat the remaining balls. Return the cookie sheet to the freezer to chill just until firmed up. You may repeat the dipping process for a thicker chocolate coating. Store in a closed container in the refrigerator for up to 5 days. May be frozen.
Recipe Notes
Note: For Stage 1, omit the coconut sugar and use more stevia, to taste.